Double Chin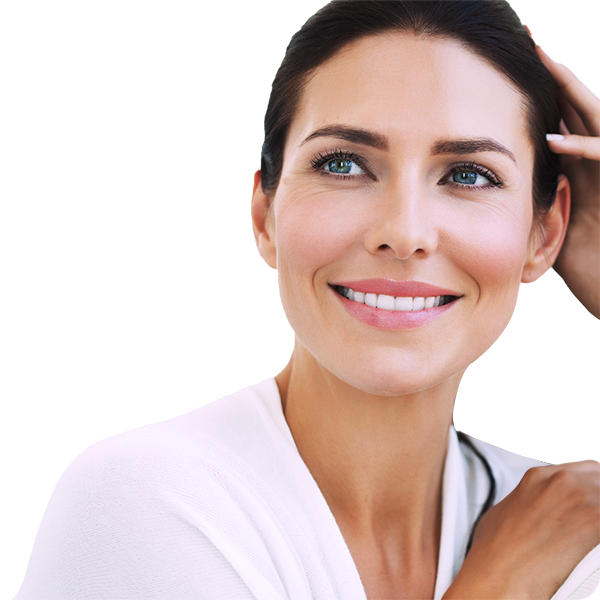 Double Chin Elimination Procedures
What is a Double Chin?
The presence of an extra layer of fat under the jaw can make it seem as if a person has two chins, hence the term 'double chin.'
What are the Causes of a Double Chin?
Several different factors can cause a double chin. These include:
Weight

: Since a double chin is basically just the presence of extra fat under the jaw, as you gain weight, you become more likely to develop a double chin

Posture

: Your posture greatly affects the way your body looks. Standing and sitting in certain positions can highlight certain parts of your body while concealing the others. People that have a bad posture, and keep their face tilted downwards very often, are likely to develop a double chin

Genetics

: There is no specific gene that causes a double chin. However, a number of different genes affect facial structures, such as the shape of the jaw, cheeks, forehead, etc. For this reason, genetics can often lead to people having a facial structure that is more likely to develop a double chin

Aging

: As we grow older, our skin tends to lose its elasticity and become saggy. When this happens to the skin of the lower jaw, it droops down and makes it appear as if you have a double chin
What are the procedures that can help get rid of a Double Chin?
A double chin can be removed by surgical as well as non-surgical facial contouring. In surgical facial contouring, the excess fat may be removed mechanically after making incisions in the skin, resulting in a more defined and chiseled chin structure. Non-surgical procedures to remove a double chin include the following:
Lipodissolve
In this procedure, fat-dissolving medications are injected into the skin. Unwanted fat pockets under the skin are dissolved and eliminated, thereby achieving a more defined chin.
Radiofrequency Treatment
This is another popular method of non-invasive fat reduction for a double chin. In this procedure, radiofrequency waves are used to reduce subcutaneous fat. Radiofrequency treatment does not cause any pain or discomfort, in addition to being very time-efficient and affordable.
Thread Lifting
In this slightly invasive procedure, surgical threads are latched onto the skin near the jawline and then pulled upwards. This results in the fat being pulled up along with the skin and creating a chiseled and defined chin. The threads used in this procedure are surgical-grade cells which means that they are fully absorbed into the skin, so you do not have to worry about any marks or scars.
CoolSculpting
In this procedure, fat under the chin is removed by freezing the fat-producing cells in the area. As a non-invasive treatment, CoolSculpting does not require a lot of time. The average session lasts between 30 and 60 minutes.
HIFU Treatment
High-Intensity Facial Ultrasound is a non-invasive procedure that boosts collagen production and tightens the skin. This results in an enhanced and more prominent chin.
Micro-needling with Mesotherapy for Skin Tightening
Microneedling is a procedure that involves penetrating the targeted skin with needles to revitalize it and make it look youthful. A combination of microneedling and mesotherapy is a sure way of boosting skin tightening, reducing wrinkles and stretch marks. This combination also increases collagen production in your skin, resulting in supple and plumper skin.
Why is Double Chin Removal done?
Being overweight can lead to the development of a double chin in many people. But sometimes, weight loss methods and diet control are unable to help get rid of it. People that are genetically predisposed to having a double chin also do not benefit from weight loss. Non-invasive double-chin removal treatments offer an efficient solution.
As the skin begins to sag with age, it becomes inevitable for some people to develop a double chin. In such cases, the skin needs to be tightened in order to solve the problem. Treatments such as HIFU and radiofrequency skin tightening do wonders in terms of restoring skin elasticity and in removing a double chin.
Having a double chin can make many of us feel insecure and uncomfortable. Double chin removal techniques can help boost your self-esteem and give you the confidence you want. After all, there is no need to deal with such negativity when there are easy and painless methods available to help you become your most confident self.
What are the Benefits of Non-surgical Double Chin Removal?
Non-surgical double chin removal is widely preferred by many. This is because the procedures involved are far more comfortable for the patient and carry considerably fewer risks than a surgical double chin removal procedure. There are numerous benefits of non-surgical procedures for eliminating a double chin. Some of them are listed below:
The procedures are non-invasive:

Any kind of surgical procedure can be an intimidating experience for patients. There are numerous risks associated with surgical double chin removal procedures, such as infections, scarring and nerve damage. Non-surgical double chin removal techniques are a much better alternative as they have guaranteed results without risk-related anxiety

Very little to no recovery time:

All non-surgical procedures for getting rid of a double chin have very little to no recovery time. This means that you do not have to worry about staying at home and taking excessive care of yourself after receiving the treatment, as you would after a surgical procedure. After the treatment, you can just go about your day as you normally would

Minimal risk:

The only risks associated with most procedures are slight redness, swelling and stinging of the skin, all of which disappear within a few hours or days after the procedure

Improvement in skin:

Most procedures, such as HIFU treatment have the added benefit of improving skin texture, making your skin look more radiant and supple

Long-lasting results:

The results of these non-surgical procedures are not very prominent immediately after undergoing them and become more obvious within a few weeks of the procedure. Rest assured, the results are guaranteed and last for a long time
What are the Risks of Non-surgical Double Chin Removal?
While non-invasive procedures for getting rid of a double chin carry minimal risks, some concerns are listed below:
Slight redness

Slight swelling

You may experience a slight stinging sensation after some treatments
All of the side effects mentioned above are not severe and tend to disappear within a few hours or a few days post-procedure.
Thread lifting, being a slightly invasive procedure, carries the following risks:
Light bruising may occur

Swelling

The area may become infected

In some areas, blood might gather under the skin, making it appear bruised

Pain may be experienced after the procedure
Although thread lifting carries more risks, they are still very minimal in comparison to surgical procedures like a facelift. It is also true that a large majority of patients that undergo thread-lifting do not experience any severe side effects and are able to go about their routine within two days of the procedure.
What to Expect after Getting a Non-surgical Double Chin Removal Procedure
The basic aftercare instructions for procedures involving laser, ultrasound, or radiofrequency such as HIFU and CoolSculpting are listed as follows:
Avoid direct sun exposure after the treatment

Ensure to keep the skin hydrated and moisturized

Always wear sunscreen when stepping out into the sun

Avoid using any type of soap or face wash on the region until the redness and swelling subsides
Aftercare for a thread-lifting procedure includes the following:
Avoid stroking or touching the area excessively for a week after the procedure

Avoid any activities that would cause excessive sweating for 7 to 14 days after the procedure

Avoid moving your mouth or jaw too much. It is recommended to use straws for drinking for a week after the procedure
Results of a Double Chin Removal Procedure
All non-surgical double chin removal procedures require multiple sessions for optimal results. Typically, up to six sessions are required, with successive sessions having a month-long gap in between. The results of these procedures become more visible after a few weeks of undergoing them.
The amount of time that thread-lifting procedures last varies depending on the age of the recipient. The results typically last for up to four years in younger people and up to two years in older patients. Unlike non-surgical procedures, the results of thread-lifting are immediately visible after treatment.
Double Chin Removal in Dubai
Numerous clinics around Dubai offer procedures and treatments for getting rid of a double chin, making it difficult for you to choose one. Although most of these procedures carry little to no risks, it is important to minimize any procedural pain or discomfort as much as possible. This can only be ensured by well-equipped professionals with years of experience and the required skill set. At Medcare, we ensure that your comfort comes first, so you can enjoy the results you want without excessive pain or discomfort.
Specialists for a double chin removal in Dubai
Here at Medcare, we do our best to ensure that you are in good hands. For this reason, we make sure that our specialists are well-informed about the technicalities of the procedure and have a good amount of practical experience. Pain tolerance varies from person to person, so some people are bound to find the procedures more uncomfortable than others. For this reason, our doctors always make sure to check in with our clients during the treatment process and relieve any pain or discomfort as much as possible. In this way, Medcare allows you to have the desired results without the anxiety or fear associated with undergoing cosmetic procedures.