Laser Hair Removal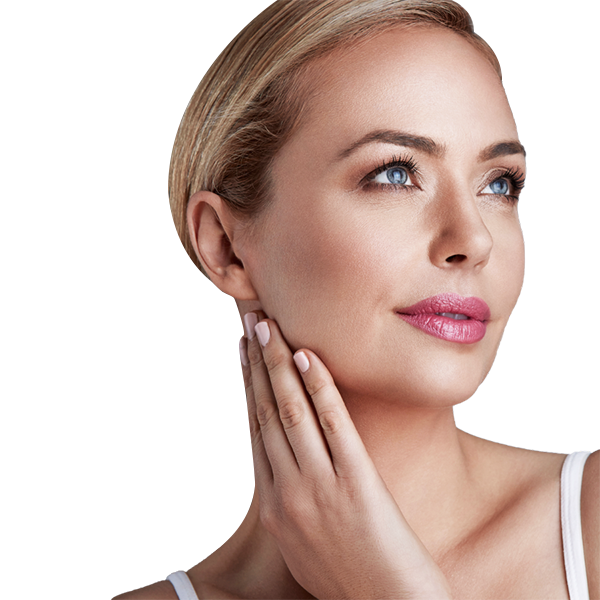 Laser Hair Removal
What is Laser Hair Removal?
Laser hair removal is a permanent hair removal technique that ensures smooth, hairless skin without the hassle of waxing & shaving. During the procedure, high-energy laser light is used to destroy cells that produce melanin inside the hair follicle. These cells are responsible for the production & growth of body hair. When they are destroyed, the hair becomes finer, & eventually, the hair follicles lose their ability to produce hair. The tissue & skin around the hair follicle is not harmed during the procedure. Laser hair removal is available in many cosmetic clinics all over Dubai, as it is a very popular permanent hair removal method, particularly amongst women.
How is Laser Hair Removal Performed?

A laser hair removal procedure is quite simple. Listed below are the steps involved in the process. Let's take a look.
Step 1:

The laser hair removal process begins with our aesthetician applying a cooling gel or cream to the region being targeted. This gel ensures that you feel comfortable during the procedure, & it also allows the laser light to penetrate the skin without damaging surrounding tissue

Step 2:

The laser light is adjusted according to the color & thickness of your hair & your skin complexion

Step 3:

After the application of the gel, an aesthetician will start targeting the hair follicles with a hand-held device until the entire target region has been treated. Sometimes, the aesthetician might try out a test region to ensure that all settings are appropriate for the customer & ensure that the treatment is effective. It is usual for the skin to be slightly irritated or red immediately after the laser hair removal procedure, & this usually dies down after a few hours
The amount of time needed for the procedure is dependent on the total area of skin being treated. Small regions like the face require anywhere between 15 & 20 minutes, while larger areas like the arms & legs might take between 40 minutes & an hour. Removing hair permanently requires multiple sessions. The number of sessions needed varies from person to person, depending on the color & thickness of hair, but a reasonable estimate is between 4 & 7 sessions per person. The average time between two consecutive sessions is around one to one & a half months.
Why is Laser Hair Removal Done?

Dealing with unwanted body hair can be a hassle. Temporary methods of hair removal such as waxing, shaving, & tweezing can be very time-consuming & tedious. Making parlour appointments every few weeks for temporary hair removal is not efficient in terms of time or money. Laser hair removal provides a much more time-effective & cost-effective substitute, with the permanent hair removal as a result. Laser removal is especially useful for women with thick, coarse hair that is very prominent. In such cases, laser treatment helps make the hairless prominent by reducing the thickness of the hair shaft.
What are the Benefits of Laser Hair Removal?
Laser hair removal, being a non-invasive & time-efficient method of permanent hair removal, offers a number of benefits. Some of them are:
It is Time-efficient:

Laser hair removal saves a lot of time by gradually destroying hair-producing cells until they are killed entirely. This ensures that after a certain number of sessions, the client will no longer need to worry about making parlor appointments to remove unwanted body hair, therefore saving time in the long run. Each session also requires no more than an hour to an hour & a half at most

It is Permanent:

Laser hair removal aims to stop hair growth altogether, as opposed to simply removing unwanted body hair. By targeting the very mechanism that leads to hair growth, it ensures a great decrease in the rate of hair growth and, eventually, smooth, & hairless skin

Negligible Discomfort:

Laser hair removal in cosmetic clinics around Dubai is usually quite a comfortable & easy experience. It is considerably less painful than waxing & tweezing. & discomfort that you are expected to experience is greatly minimized by the use of a cooling gel before the laser light is used. Most recipients only experience a very slight tingling & stinging sensation during the procedure

Enhances the Skin:

An additional aesthetic benefit of laser hair removal is that it enhances the texture of the skin, making it look healthier & brighter. Certain areas of skin are more sensitive than others. A good example is that of the face & neck. Waxing or shaving in these regions can lead to the appearance of small pimples due to irritation. Laser treatment, however, ensures the prevention of any such irritation with hair removal

Very Few Side-effects:

One of the reasons why laser hair removal is so popular among so many people in Dubai is because of the fact that it does not have any severe side effects. Slight redness, inflammation, & pain are the only side effects experienced by recipients, & they disappear within a few hours
Who needs Laser Hair Removal?

Laser hair removal is for anyone looking for a permanent solution for undesired body hair. Hereditary factors can often lead to certain women having very dark, coarse, & prominent body hair with a fast growth rate. In such cases, waxing & tweezing prove useless as the hair returns very quickly, so permanent hair removal via laser is the best option. Women, particularly those who suffer from hormonal issues such as PCOS, can have excessive facial hair. This tends to impact their confidence & self-image negatively. Shaving & waxing in such cases can lead to thicker hair & irritated skin, respectively. However, laser hair removal provides a much better, permanent solution to this problem. With excessive facial hair taken care of, & the skin made smoother, it is bound to restore any lost confidence & boost self-esteem.
What are the Potential Risks of Laser Hair Removal?
Laser hair removal is a safe & comfortable procedure with very minimal risks such as:
Slight swelling after the procedure

Light redness of the skin

Temporary irritation of the skin
All of the risks mentioned above are very mild & tend to go away within a few hours.
How can I prepare for Laser Hair Removal?

Important measures to take in order to protect the skin & achieve the best results are given below.
Avoid excessive exposure of the target area to the sun

Allow the hair to grow for a period of at least 4 to 8 days before the session

For best results, allow hair to grow for around two weeks so that the hair is clearly visible to the aesthetician

Ensure to wear sunscreen throughout the period of treatment
Results of Laser Hair Removal
Laser hair removal is established as an effective method of permanent hair removal. The treatment requires up to a total of 8 sessions to fully disable hair growth in the treated areas. Recipients of permanent hair removal via laser are very satisfied with the results, which is hairless & smoother-looking skin. The results of laser hair removal are permanent as it targets the very cells that are responsible for producing hair. Once the treatment has been performed, its effects cannot be reversed, & so any new hair that still manages to grow is considerably thinner & weaker at the root.
Laser Hair Removal in Dubai

When choosing where to get laser hair removal, it is very important to ensure that you are in good hands. Medcare offers a team of talented & skilled professionals with years of experience in the cosmetic industry. You can count on our aestheticians to deliver the best results with the least discomfort, making your entire experience well worth it.
Laser Hair Removal Specialists in Dubai

Despite being a relatively easy procedure, laser hair removal may lead to heavier risks for the customer if not performed correctly. For this reason, it is important for the aesthetician to not just be well-versed in all aspects of the procedure but also have years of experience. Medcare offers just that. Our specialists possess the knowledge & skill set required to perform laser hair removal in a way that doesn't just yield positive results but is also comfortable for you. From meticulously preparing the skin to providing all relevant information for aftercare, our aestheticians are aware of it all. You can go into the treatment with the satisfaction of being in trusted hands.