Men's Services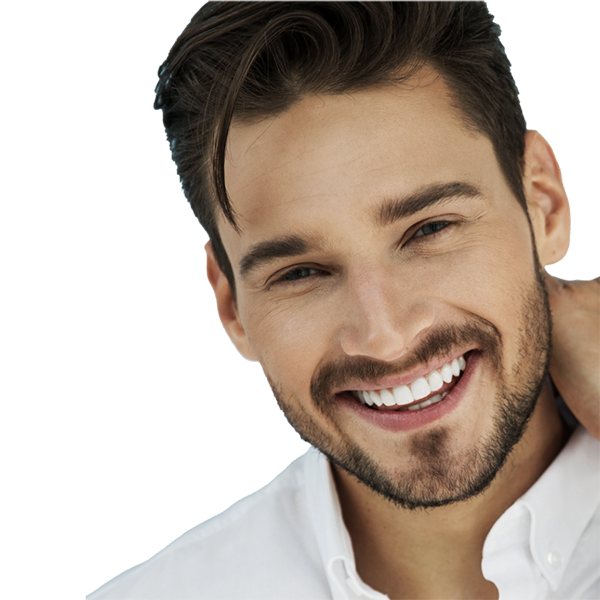 What are Aesthetic Treatments for Men?
Men, like women, want to look & feel their best. There are a whole host of aesthetic treatments that have been specially designed to meet their specific needs. These include skin, hair, & body procedures that will make you look great from head to toe.
Types of Aesthetic Treatments for Men
Antiaging: The natural aging process affects both men & women. Anti-aging treatments treat visible signs of aging such as fine lines & wrinkles, sagging jawline, & under-eye circles to restore a young, fresh, & attractive appearance
Skin Boosters: Skin boosters are a great way to get instant, natural-looking results. A combination of hyaluronic acid, vitamins, & minerals is injected into the skin's surface to help stimulate collagen production, boost hydration, & enhance the skin's luminosity
Botox: Botox is still the number one anti-aging treatment for both men & women. When injected into the desired areas, it relaxes the appearance of fine lines & wrinkles & improves skin elasticity. It is used to lift the neck & eyebrow muscles & is especially effective in contouring the jawline
Dermal Fillers: Dermal fillers are an excellent non-invasive treatment for men looking for cosmetic improvement. It is injected below the skin's surface to add volume, lift, & contour the face. As the facial tissues above the jawbone weaken, dermal fillers can enhance the jawline to give a chiseled appearance
Skin Rejuvenation: Skin rejuvenation treatments work very well with men's skin as it thickens & heals faster. Procedures such as laser resurfacing, chemical peels, & micro-needling reduce the appearance of fine lines & wrinkles, improve skin tone, hyperpigmentation, scarring, & give a fresher, more youthful look
PRP for Anti-aging:

Platelet-rich plasma (PRP) treatment is a well-established, anti-aging treatment for men to heal & regenerate the skin. A blood sample taken from the arm is put into a machine to separate the plasma from the other components. The platelets are then extracted from the sample & injected into the skin. The concentrated formula of PRP acts to reduce fine lines & wrinkles, plump up & tighten the skin, & improve the overall complexion

PRP for Hair Loss: Platelet-rich plasma (PRP) treatment also combats hair loss & male pattern baldness. The proteins & growth factors in blood platelets are excellent for healing, repairing damaged follicles, & improving hair growth. A blood sample rich in platelets is extracted from the arm & injected into the head through a thin & small needle. PRP is a popular treatment for men as it helps restore hair loss, improves growth, & reduces further thinning
Laser Hair Removal: Over-abundant body hair can be challenging & annoying for some men. Laser hair removal treatment for men is an easy, painless, & permanent procedure that can reduce body hair. Over multiple sessions, the laser targets the hair follicle to destroy it to no longer grow. This leaves the targeted area hair-free permanently
Body Contouring: As our skin ages & loses its firmness & shape, it affects our body's looks & our confidence. Fortunately, there are now nonsurgical procedures for reducing fat & tightening the skin. For men, the most troublesome areas are the abdomen, chest, neck, & jawline. Treatments such as CoolScultping & SculpSure use cold & heat to target fat cells without damaging surrounding tissue. These fat cells are then eliminated by your body's lymphatic system, leaving a well-contoured look
Botox for Excessive Sweating:

Excessive sweating in normal circumstances can be highly embarrassing. One way excessive sweating can be treated in men is through Botox. Botox injected into the treatment area, such as the armpits, temporarily blocks the nerve signal that stimulates the sweat glands. This stops sweat from being produced by the cells & hair follicles. The effects of this kind of treatment for men can last 6-8 months
Why are Aesthetic Treatments done for Men?
Men, like women, have a desire to look at their best. Increasing the importance in their appearance has led to their interest in non-surgical procedures & aesthetic services. These treatments for men use the latest technology to meet their unique needs for skin, hair, & body.
Benefits of Men's Aesthetic Treatments
Slow down the signs of aging

Look & feel younger & more attractive

Reduces stress & increases wellbeing

Increases confidence
Who needs Aesthetic Men's Treatments?
Most adult men can benefit from the non-invasive treatments mentioned above, depending on their specific concerns. A medical professional will decide what treatment is appropriate for you.
Results of Aesthetic Men's Treatments
Most of the aesthetic treatments mentioned are very safe & have high success rates. This is evident from the increasing popularity of men's services. However, each form of treatment bears varying degrees of results. A professional expert needs to be consulted to determine which kind of treatment works best.
Men's Aesthetic Treatments in Dubai & Sharjah
Medcare is a trusted expert for men's aesthetic treatments in Dubai & Sharjah. We take pride in our teams of skilled professionals who have experience & knowledge in the different kinds of treatments for men to deliver the best possible results in a safe & comfortable way for you.
Men's Aesthetic Treatment Specialists in Dubai & Sharjah
Medcare provides the leading technologies in men's aesthetic treatments in Dubai & Sharjah. Experienced, board-certified dermatologists & cosmetologists administer procedures.