Skin Rash: Common Causes, Types, Symptoms, Home Remedies & More
Written By: Dr. Hebatallah Mahmoud
Dr. Hebatallah Mohamed Mahmoud earned her MBBS from Ain Shams University, Egypt. She is a specialist in Dermatology & Cosmetology and worked as a specialist dermatologist at Yoland Medical Centre, Dubai
Updated On:March 31, 2022
Read more.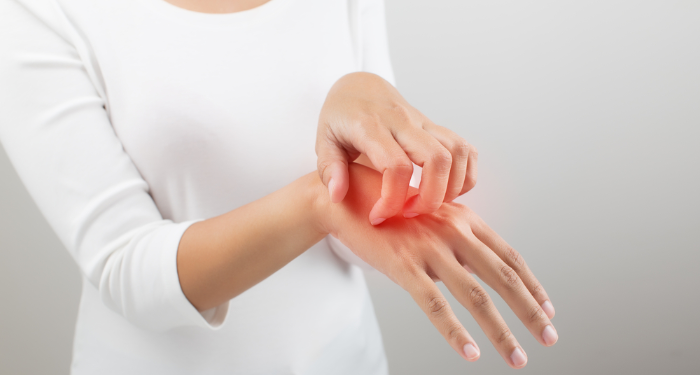 What is a Skin rash?
A skin rash is a skin condition in which the color and/or texture of the skin changes due to inflammation. You can contract several types of skin rashes, each of which differ in their symptoms, its causes, and how it is treated. Some rashes abate on their own while others require treatment. Most types of skin rashes are not a cause for concern, can be treated at home, and can be prevented easily as well.
Symptoms of Skin Rash
The symptoms you exhibit due to a skin rash will depend on the type of skin rash you have. Here are some common symptoms observed across several types that can help you make the initial identification:
Patches of discoloration on the skin
Itching
Fluid-filled bumps on the skin
Blisters
Skin irritation
Common Types of Skin Rashes
Here are some of the most common types of skin rashes that you may experience.
Eczema (Atopic Dermatitis)
Eczema, most commonly used to describe atopic dermatitis, is a common skin rash that causes the affected area to become dry, flakey, inflamed, and rough. Eczema is also one of many skin rashes that itch and cause skin irritation. Eczema is most common in children and young adults and usually occurs on the face, arms, scalp, inner elbows, and the back of the knees. It is also a common skin condition in asthma and/or hay fever patients.
Eczema symptoms include:
Itching
Discolored, red, and brownish patches on the skin
Raised bumps that often secrete fluid if scratched
Scaly skin
Patches of dried ooze fluid when scratched
Eczema is not contagious but can cause severe skin irritation. It can subside for a while but flare up again and gets worse if the affected skin is scratched, sometimes even resulting in a skin infection that will require medical treatment.
Seborrheic Dermatitis
Seborrheic dermatitis is a type of skin rash that causes the skin to become red, inflamed, and scaly, often resulting in itching and skin irritation as well. Hair loss can also occur in affected areas in some cases. Seborrheic dermatitis is the most common type of skin rash that affects adults, but can very easily affect children as well. Seborrheic dermatitis typically occurs on the scalp, forehead, cheeks, brows, and external ears of the affected person. When seborrheic dermatitis appears on the scalp of children, it is called cradle cap. It may also affect the diaper area.
Contact Dermatitis
Contact dermatitis is a less common type of eczema than atopic dermatitis and is triggered by contact with a skin irritant, chemical, or an allergy-inducing substance. The most common chemicals, irritants, and allergens that result in contact dermatitis are poison ivy, poison oak, poison sumac, etc. The skin rash from contact dermatitis is characterized by itchy, red skin with the formation of blisters that often ooze when scratched. The rash can take somewhere between a few hours to a few days to appear after the patient comes in contact with the chemical, irritant, or allergen.
Diaper Rash
Diaper rash, also referred to as diaper dermatitis, is a very common skin rash type, typically affecting babies and infants as well as adults who wear diapers. Research suggests that most children contract diaper rash at least once before they get toilet trained. It is characterized by red, inflamed, and irritated skin.
Stasis Dermatitis
Stasis dermatitis is a severe, long-term skin condition that is common in adults over the age of 50. It is characterized by irritated, red, itchy, and/or swollen skin. It usually starts out in the lower leg area and then progressively worsens. The rash may spread to the calves, result in dry and cracked skin, severe itching, and may even result in red or purple blisters/ulcers that ooze and scab.
Hives
Hives is a skin rash type characterized by itchy, raised welts on the skin that are often red or skin-colored. They appear in clusters, can grow larger, and can spread across the body. They can affect any part of the body and usually occur suddenly, subsiding in a few hours, then recurring.
Psoriasis
Psoriasis is a chronic skin rash where there is an accelerated buildup of skin cells which causes scaling of the skin. It is characterized by inflammation, redness, silver-whitish scales, and red, thick patches on the skin which often crack and bleed. Psoriasis can affect any part of the body including hands, feet, neck, scalp, face, etc.
Nummular Eczema
Also known as nummular dermatitis, nummular eczema is a type of skin rash that is characterized by coin-shaped, brown/pink/red lesions on the skin which are itchy, may ooze fluid, and dry off and become crusty.
When to See a Doctor for a Skin Rash?
Most types of skin rashes such as atopic dermatitis, seborrheic dermatitis, etc., do not require medical attention as long as symptoms are mild. However, if you experience any severe skin rash or develop additional symptoms that may point to a medical illness, you should get in touch with your doctor immediately.
Some types of skin rashes do require medical attention. For example, in the case of a diaper rash, parents should contact a doctor if the rash is bright red and persists for more than two days and/or comes with a strong urine odor which may signal dehydration in the child. They should also contact a doctor if the baby develops a fever due to the rash or if blisters form. In the case of a hive outbreak around the throat or on the tongue, you should immediately seek medical attention since it may result in troubled breathing.
Skin Rash Causes
Causes of skin rashes vary from type to type. The exact cause of eczema has yet to be pinpointed. However, medical professionals believe that it may be brought on by an overactive immune system that is activated by skin irritants or responds abnormally to proteins in the body.
Seborrheic dermatitis may be caused by an abnormal immune system response, stress, certain drugs and medications, cold and dry weather, etc. It may also be passed down in family genes.
Contact dermatitis results from coming in contact with a substance that irritates the skin. It can be a chemical, a poisonous plant, an allergen, a cosmetic/skin product, the wrong soap for your skin, etc.
Diaper rash occurs when urine and feces stay in contact with the skin for too long.
Stasis dermatitis is caused by poor blood circulation in the veins which may be a result of medical conditions such as chronic venous insufficiency.
Hives are most commonly caused by allergic reactions to drugs, food items, insect bites, pollen, etc., which increase histamine production in the blood. In some cases, hives can be triggered by excessive exposure to extreme temperatures, sweating, or stress.
Psoriasis is an autoimmune condition where white blood cells attack skin cells, causing the skin cell production process to speed up which causes the buildup of skin cells. People with a family history have higher chances of getting it as well.
The exact cause for nummular eczema is not clear but stress, dry skin, family history, contact with irritants, temperature changes, and medical surgeries have been linked with nummular eczema. Other types of rashes can be caused by bacterial, fungal and parasitic infections as well.
Risks of Skin Rashes
There are several factors that can increase the likelihood of getting a skin rash such as:
Increased exposure to the sun
Exposure to heat
Coming in contact with skin irritants
Having an allergic reaction
Use of certain medicines that can cause a reaction
Insect bites
Treatment of Skin Rashes
The symptoms of many skin rashes can be treated using over-the-counter skin rash medications including:
1% Hydrocortisone anti-itch creams
Oral antihistamines such as diphenhydramine and hydroxyzine can ease the itching caused by skin rashes
Moisturizing lotions to keep the skin moist and avoid dry, cracked skin due to skin rashes
For easing mild pain caused by the rash, paracetamol (Panadol) and ibuprofen (Advil) can be used
It is always a good idea to contact your dermatologist for the best skin rash treatment for your skin type.
Home Remedies for Common Skin Rashes
Use the following home remedies to treat skin rashes:
Use gentle cleansers instead of bar soaps
Shower or bath in lukewarm water
Don't cover the rash so that it can breathe
Don't scratch or rub the rash
Dry the rash with a gentle pat
Stop using any skin or cosmetic products that may have caused the rash
Take an oatmeal bath
Use dandruff shampoo if the rash has caused dandruff formation on the scalp
Prevention of Skin Rashes
You can prevent a rash by:
Avoiding skin and cosmetic products that may irritate the skin
Not scratching a rash to prevent it from spreading
Avoiding showering with hot water
Not wearing clothes that can irritate the skin like woolen clothes, etc.
To find out more about skin rash types, causes, treatments, and prevention, get in touch with us today.
Meet our doctors from the Dermatology department