Thyroid: Causes, Symptoms, Types, Treatment & More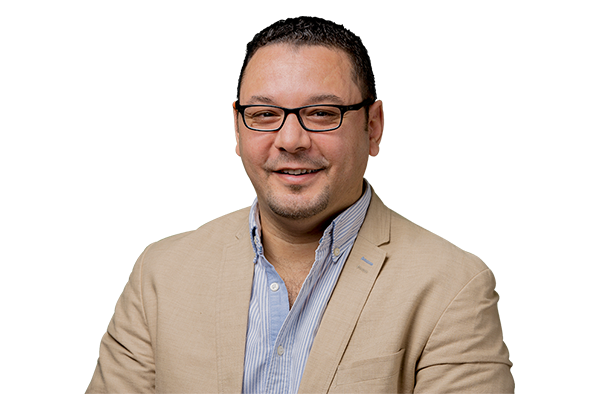 Written By: Dr. Ahmed Abdelhameed
Dr. Ahmed Mohamed Abdelhameed is an internal medicine specialist at Medcare, qualified with an MD in Internal Medicine from Assiut University, Egypt.
Updated On:March 31, 2022
Read more.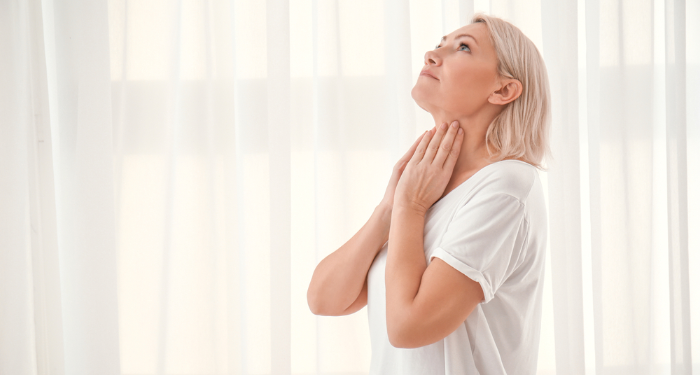 What is Thyroid?
The thyroid looks like a butterfly-shaped gland that is positioned at the front of the neck & is wrapped around the windpipe (trachea). In both men & women, it functions to regulate metabolic (endocrine) processes in the body. It secretes two hormones, thyroxine (T4) & triiodothyronine (T3). Both these hormones are needed in perfect balance to regulate brain functions as they stimulate the hypothalamus & pituitary gland to regulate metabolism in the body. When there is a disorder with the thyroid (overactive or underactive), it can severely impact other body functions as well.
What is Thyroid Disease?
When the thyroid gland fails to produce the right amount of T3 & T4 hormones, the condition is called thyroid disease. In cases where the thyroid gland produces too many thyroid hormones, the body metabolizes energy too quickly, & when the opposite happens the body does not produce enough hormones & you feel sluggish & slow.
What are the Types of Thyroid Diseases?
Some of the most common types of thyroid disorders include:
Hyperthyroidism: Hyperthyroidism is the name given to an overactive thyroid gland that produces too much T4. It is more prevalent in women than in men. In severe cases, hyperthyroidism manifests itself as Graves' Disease & affects almost 70% of patients who suffer from an overactive thyroid.

Hypothyroidism: Hypothyroidism is the name given to an underactive thyroid that does not produce enough T4 for normal body functions.

Goiter: A goiter is an enlargement of the thyroid gland & is usually caused by a lack of iodine in the body. Although painless, an enlarged goiter can cause discomfort while eating & swallowing & in severe cases, constriction when breathing.

Hashimoto's Disease: Also known as Hashimoto's thyroiditis, Hashimoto's is a chronic disease that results when the body's immune system attacks the thyroid gland & its ability to produce regulating hormones resulting in an underactive thyroid. Though it can happen at any age, it is more common in middle-aged women.

Graves' Disease: Similar to Hashimoto's, Graves' disease is also a result of the immune system mistakenly impacting the thyroid gland. The only difference between Hashimoto's disease & Graves' disease is that in the latter the thyroid gland overproduces the hormones that monitor metabolism.

Nodules in the Thyroid: In cases where there is a prolonged deficiency of iodine, or a diagnosis of Hashimoto's small nodule-like growths can form on the thyroid. Mostly the nodules are too small to notice or feel, however, in rare cases they can grow to a larger size to cause breathing & swallowing difficulties & thyroid cancer.

Thyroid Cancer: Though rare, thyroid cancer is the most common endocrine cancer in children.
What are the Symptoms of Thyroid Disease?
The symptoms of thyroid disease depend on the thyroid being overactive or underactive.
Symptoms of Hypothyroidism (Underactive Thyroid)
Hypothyroidism is the name given to the medical condition when the thyroid becomes underactive. It is more common in women than men, where patients are likely to manifest symptoms as they age. As hypothyroidism progresses gradually, its symptoms are easy to miss.
Symptoms of Hypothyroidism (Underactive Thyroid) usually manifest as:
Tiredness
Increased sensitivity to temperatures, especially feeling cold
Weight gain
Constipation
Weak & poor concentration
Dry skin & hair
Feeling low or depressed
Muscle pains & aches
Puffy face
Slower heartbeat
Menstrual changes (especially prolonged or excessive bleeding) & fertility issues
Symptoms of Hyperthyroidism (Overactive Thyroid)
Even though hyperthyroidism can develop in any patient, it is also more common in women than men. It happens when antibodies stimulate the thyroid to produce too much hormone, sending the gland into a state of overactivity. As it tends to run in families, hyperthyroidism has been found to have genetic links.
Symptoms of Hyperthyroidism (Overactive Thyroid) include:
Rapid heartbeat & palpitations
Elevated blood pressure
Irritability & restlessness
Tremors in hands & legs & muscle cramps
Excessive sweating
Frequent bowel movements
Weight loss
Irregular periods
Increased appetite
Itching
Nausea
When Should you See a Doctor for Thyroid Disease?
Depending on the severity of the symptoms, especially relating to hyperthyroidism, it is advisable to see a doctor timely to address concerns. The first step in diagnosis is undertaking a detailed medical history & a physical exam. A doctor may also recommend some of the following tests:
Cholesterol Assessments
Low cholesterol & triglyceride levels are indicative of higher metabolism which is one of the first signs of hyperthyroidism.
Thyroid Function Tests
A doctor will also recommend a T4, free T4, & T3 test to measure the levels of thyroid hormones in your blood. Similarly, you may also be asked to take a thyroid-stimulating hormone (TSH) test. TSH is a hormone that affects the pituitary gland, which in turn influences the number of hormones produced by the thyroid. A low TSH is also one of the earlier signs of hyperthyroidism.
Ultrasound & Scans
An ultrasound can also be taken for a more detailed picture of what is happening within the gland. An ultrasound will provide a clearer scan of any mass & will also indicate if they are solid or cystic.
CT or MRI Scans
For an even more detailed analysis of the thyroid, a doctor might recommend a computed tomography (CT) scan or a magnetic resonance imaging (MRI) scan for identifying possible tumors.
What are the Causes of Thyroid Disease?
Autoimmune related disorders are the leading cause of thyroid disease. Patients suffering from Type 1 diabetes are at a higher risk of developing thyroid issues due to an existing autoimmune disorder. When the immune system impacts the thyroid gland a patient can either suffer from an overactive thyroid (hyperthyroidism) or an underactive thyroid (hypothyroidism).
Other factors causing thyroid disease include a shortage of iodine in the body, inflammation of the thyroid gland post-viral or bacterial infection, benign nodules & lumps, cancerous thyroid tumors, & treatment therapies like radiation & thyroid surgery.
Causes of Hyperthyroidism
An excess of iodine in the body
An inflammation of the thyroid, where T3 & T4 leak out of the gland
Non-cancerous tumors on the thyroid or pituitary gland
Tumors
Postpartum hyperthyroidism due to pregnancy
Causes of Hypothyroidism
Autoimmune disease (Hashimoto's thyroiditis)
A response to hyperthyroid treatment
Thyroid surgery
Thyroid cancer & radiation therapy
Patients taking lithium for the treatment of psychiatric disorders
In rare cases, hypothyroidism also results from
Thyroid birth defect (Congenital Hypothyroidism)
A defect in the pituitary gland in producing the correct amount of Thyroid-Stimulating Hormone (TSH)
Postpartum hypothyroidism due to pregnancy
Iodine deficiency
What are the Risks Associated with Thyroid Disease?
In addition to a family history, where there is a genetic link to thyroid disorders like Hashimoto's or Graves' disease, age & gender can also play a role.
Risk factors for hypothyroidism include:
Gender & Age of the patient: Women over 60 years of age are at a higher risk of developing hypothyroidism
Another existing immune disorder (Type 1 diabetes or Celiac disease)
Pregnancy & postpartum hypothyroidism
Disorders of the pituitary gland
Risk factors for Hyperthyroidism Include:
Gender: Females are more likely to develop hyperthyroidism as compared to men
A family history of autoimmune diseases like diabetes, arthritis, lupus, & celiac, among others.
Pregnancy
Thyroid trauma
Smoking
In rare cases, patients who have recently had CT scans (that use iodine contrast) can also be susceptible to hyperthyroidism.
What are the Complications Associated with Thyroid Disease?
Untreated thyroid disease can result in serious health complications. These include:
Cardiovascular Issues
As the thyroid gland controls the body's metabolic functions, you can have a lowered pulse & abnormally slow or higher heartbeats. Hypothyroidism-related cardiovascular issues could result in higher cholesterol & heart disease. In severe cases, hyperthyroidism can cause a thyrotoxic crisis, where a patient manifests high fever & heart failure from an erratic, rapid heartbeat.
Kidney & Renal Function Complications
Decreased blood flow due to hypothyroidism can also impact kidney functions. The kidneys fail to absorb salt back into the body or excrete water. As a result, levels of sodium in the bloodstream can drop to dangerously low points.
Complications with the Nervous System
As hypothyroidism is associated with depression, it can also impact the nervous system. Muscles become weak due to nerve damage which can cause a tingling sensation in the legs, arms, or other affected areas. Patients with hypothyroidism are also more susceptible to carpal tunnel.
Infertility Issues
As thyroid hormones also impact sex hormones, hypothyroidism can impact fertility. Low thyroid levels in men can cause erectile dysfunction, abnormal sperm shape, decreased libido, & low levels of testosterone. What's more, women with hypothyroidism are more likely to have problems with irregular periods, where immune system-related thyroid disorders can also result in infertility problems.
What are the Treatments for Thyroid Disease?
Hormone Medication Therapies
Milder cases of thyroid disorders can easily be treated through hormone therapies & medicines that normalize thyroid levels.
Treatment Through Radioactive Iodine
Patients with hyperthyroidism can take radioactive iodine to destroy the cells that produce excessive thyroid hormones. However, patients who undertake this treatment need to be mindful of not getting pregnant to avoid radiation spread to a baby.
Surgical Removal of the Thyroid
A more permanent treatment for thyroid disease is surgery. A section or all of the thyroid glands can be removed, however, thyroid hormone supplements have to be taken for life.
What are Some Home Remedy Solutions for Thyroid Disorders?
Eat a Balanced Diet
For people living with hypothyroidism, it is a good idea to include whole grains, beans, lean proteins, & fruits & vegetables into their diet so that they get sufficient levels of iodine. Conversely, patients with hyperthyroidism should try a low-iodine diet that avoids iodized salt, seafood, dairy products, high amounts of grains, & proteins like meats & egg yolks.
Be Careful with your Soy Intake
Soy can limit the absorption of thyroid hormones & patients with hypothyroidism especially, need to be mindful of how much soy (in the form of milk, etc.) they are consuming.
Prevention of Thyroid Diseas
While you cannot take any specific steps to avoid thyroid disease, there are some factors that can help you reduce the risks. In addition to eating a balanced diet & reducing your intake of soy, the following preventative methods can help your thyroid function optimally:
Wear a thyroid collar when undergoing head, neck, chest, or dental X-rays.
Quit smoking
Monitor your selenium (a nutrient found in some proteins) levels & keep them balanced so that the thyroid can absorb correct amounts of iodine
Monitor your perchlorates (odorless & colorless salts that can dissolve in water) & reduce the thyroids ability to absorb iodine.
Timely treat other autoimmune disorders like celiac
Do a regular neck check & stay in regular contact with your doctor.
If you feel that you may be suffering from thyroid disease, it is advisable to get in touch with a medical professional. Our experts are always an appointment away to guide you through the right treatment plan.
Meet our doctors from the Internal Medicine department