Influenza (FLU) - Symptoms, Causes, Treatment
Written By: Dr. Zaineb Sabri
Dr. Zaineb Sabri is a highly skilled general physician specialised in the treatment of diabetes and other endocrine disorders
Updated On:September 30, 2021
Read more.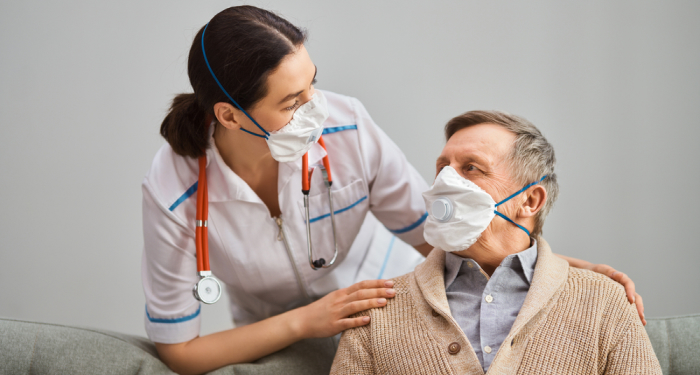 What is Influenza?
Influenza - Flu – is an extremely common winter season illness, that causes a range of symptoms from tiredness to fever, & can leave sufferers feeling wretched for a long time. While similar to the common cold, symptoms are much worse & should be diagnosed by a medical professional.
Types of Influenza
Human Flu (influenza) viruses are divided into broad categories: influenza A, B & C:
Influenza Type A: is the most common. It can leap from animals to humans & has been known to cause p&emics.
Influenza Type B: is also highly contagious & can have dangerous health effects in more severe cases. But Type B can only be spread from human to human. Type B influenza can cause seasonal outbreaks.
Influenza Type C: is the mildest flu, & symptoms will not be as damaging.
For most of us, recovery from influenza takes around seven days. But it can be several days more before you feel fully fit again. Sufferers may well feel fatigued for a few days after flu symptoms subside. It's important to stay home until you are fever-free for at least 24 hours. Influenza can spread to others a day before your symptoms appear & up to seven days after. That's why preventative flu shots are always important, but even more so right now, to help protect the population, especially vulnerable groups, from getting the flu while COVID-19 is still a threat.
Causes of Influenza
This infectious virus spreads via droplets entering another person's body.
The flu virus is spread in several ways:
Person to person: From a person near you who has the flu & sneezes, coughs, or talks
Via inanimate objects: Where it can live for two to eight hours
Person to object: Those with the virus can spread it via touching door handles, surfaces, etc
A flu virus can enter the body by touching the mouth, eyes, or nose. An annual flu vaccine helps prepare for virus exposure, although influenza viruses morph & change, so it's crucial to get a flu shot every year, especially while COVID-19 is still prevalent, & if you are in a more vulnerable group, such as being over 65, having diabetes, hypertension or heart diseases or having a compromised immune system.
Influenza Signs & Symptoms
Key signs of influenza to keep an eye out for – which discern it from a cold – are a fever & a dry cough. While these may not be signs of the flu, they are often considered prime indicators of the condition. The flu also manifests itself in more aggressive symptoms than those of a cold. Most people with the flu feel better staying in bed, while cold sufferers often carry on with their lives. Most flu comes along with extreme fatigue.
Common symptoms of the flu include:
Feeling like you've been 'hit by a truck'
Fever
Cough
Muscle aches
Headache
Fatigue
Fever
The flu often increases body temperature, so a sure sign of flu could well be a spike in temperature. Most flu-related fevers range from low-grade - 100°F/37.8°C - to high - 104°F/40°C. Fever signs include chills, sweats, or being cold despite your body's high temperature. Most fevers last for less than a week, usually around 3 to 4 days.
Cough
Dry, persistent cough is a familiar symptom of influenza. Shortness of breath or chest discomfort is often a symptom. Many flu-related coughs last for around two weeks.
Muscle aches
Flu-related muscle pains are most common in the neck, back, arms, & legs. Often severe, they can make it difficult to move.
Headache
An early symptom of the flu may be a severe headache. Sometimes symptoms such as sensitivity to light & sound go along with the headache.
Fatigue
Feeling tiredness & fatigue may come on fast & be difficult to overcome.
The difference(s) between cold & flu
Influenza symptoms are more severe than cold symptoms. The common cold & flu may seem similar at first; after all, they're both respiratory illnesses & can cause similar symptoms. But different viruses cause the two conditions. The symptoms can help tell the difference between them.
Both colds & the flu share a few common symptoms. People with either illness often experience:
Runny or stuffy nose
Sneezing
Body aches
General fatigue
A cold is rarely the cause of additional health conditions or problems. But flu can lead to:
Sinusitis
Ear infections
Pneumonia
Sepsis
If your symptoms are severe, let Medcare's professional team confirm a cold or flu diagnosis. A doctor will run tests that can help determine what's causing your symptoms. At present, cold & flu symptoms should be treated with care due to their overlap with COVID-19 symptoms. If the diagnosis is a cold, you'll only need to treat your symptoms until the virus has run its course.
Treatments can include:
Using over-the-counter (OTC) cold medications
Drinking plenty of fluids, &
Rest
Administering flu medication early in the virus' cycle may help reduce its severity & shorten the length of illness. Rest & hydration are also beneficial for flu sufferers. As with a cold, the flu often just needs to work its way through the system.
When to visit a doctor for Influenza
If you have influenza symptoms, contact us today for an appointment with one of Medcare's specialist team. But remember, most flu is best treated with rest & self-care at home. While symptoms of flu are very similar to a cold, if your child shows signs & symptoms, or an elderly relative, take time to call Medcare to discuss the symptoms. These groups – the young & elderly – are more susceptible to complications of flu, which can be serious & severe. As the flu virus evolves & mutates, Medcare advises getting an annual flu jab during the flu season.
Diagnosis of Influenza
The flu doesn't usually need a doctor's visit. Symptoms often improve with home treatment in around a week. You can relieve symptoms with over-the-counter (OTC) cold & flu medications. Take rest & drink plenty of fluids. Diagnosis can be made based on a simple test & review of symptoms, but if you feel extremely unwell for longer than 3 days, contact your nearest Medcare centre for a friendly, professional chat. We'll be able to help you ascertain what your symptoms might mean, & guide you on the path to a full recovery.
Flu testing
A number of flu tests are available. The most common are "rapid influenza diagnostic tests (RIDTs)." These work by detecting the virus elements (antigens) that stimulate an immune response. RIDT tests can provide results in 10-15 minutes but are not as accurate as other flu tests. Other flu tests - "rapid molecular assays" - detect the virus's genetic material. These tests deliver results in 15-20 minutes & offer more accuracy than RIDTs. Other more accurate, more sensitive tests can be performed in special hospital laboratories. All these tests require a swab from the inside of the nose or back of the throat, which is then sent for testing, with results in a few hours.
Influenza Treatment
Most flu cases are mild enough for home treatment without prescription medications. You should stay home & avoid contact with others when you first notice flu symptoms.
To treat Influenza you should also:
Drink plenty of fluids
Treat headache & fever with OTC medications
Wash your h&s regularly to prevent spreading the virus
Cough & sneeze into tissues & dispose of them immediately
Wear a face covering if you are in the public
Contact Medcare when symptoms appear if you're at increased risk of influenza-related complications. In most cases, over-the-counter medications will help alleviate flu symptoms, such as:
Pain relievers: Analgesics are often recommended to help ease muscle aches & pains, headache, & fever
Decongestants: Help relieve nasal congestion & pressure in sinuses & ears
Expectorants: Help loosen thick sinus secretions that make the head feel clogged & cause coughing
Cough suppressants: Alleviate coughing, especially if it's keeping you & your family awake
Home Remedies for Influenza
Numerous home remedies can alleviate your symptoms. However, if you're still feeling sick after a few days, make an appointment with Medcare. If you have a rapid heartbeat, trouble breathing, feel faint, or experience other severe symptoms, call for medical help immediately.
Home remedies to treat Influenza include:
Soup: A soothing bowl of soup may not be a cure-all, but it's a great choice when you're sick. Research suggests low sodium chicken & vegetable soup can slow the movement of infection-protecting white blood cells known as neutrophils. When moving slowly, they stay more concentrated in the areas that need the most healing.
Ginger: The benefits of ginger root are widely known – it's soothing for a cough & sore throat, & has anti-nausea properties.
Honey: Like ginger, honey is well renowned for its restorative properties. Offering antibacterial & antimicrobial qualities, drinking honey in tea with lemon can ease sore throat pain, & it's an effective cough suppressant.
Garlic: Garlic contains allicin, which has antimicrobial properties. Adding more garlic to your daily diet can reduce the severity of symptoms.
Echinacea:The herb & root of the echinacea plant include flavonoids, which can boost your immune system & reduce inflammation.
Vitamin C: Among the many benefits of vitamin C, it improves immunity. Vitamin C is found in abundance in spinach, citrus fruits & most fruit & veg. Take a supplement during the early stages of flu to help alleviate symptoms.
Probiotics: These "friendly" bacteria help keep the gut & immune system healthy. Research suggests they may reduce the chances of upper respiratory infection.
Saltwater: Gargling with saltwater can help avoid upper respiratory infections.
Vapor rub:Topical ointments, such as vapor rub, appear to reduce cold symptoms in children over two. It can help open air passages to combat congestion, reduce coughing, & improve sleep.
Humidity: Influenza thrives & spreads in dry environments. Creating more humidity may reduce your exposure to the flu. Increased humidity may also reduce nasal inflammation.
Influenza Risk Factors
Many factors can increase the risk of developing influenza, including:
Age: Influenza affects children six months to five years old, & adults 65 years old or older more.
Occupation & living environment: Living & working in facilities with many people, such as care homes or military barracks, heightens risk & spread of the flu. People staying in a hospital are also at higher risk.
A weakened immune system:Those with a weakened immune system from disease treatments, drugs & certain other conditions are more susceptible to the flu & its complications.
Chronic illnesses:Chronic conditions, such as lung diseases, diabetes & heart disease, may increase the risk of influenza complications.
Race: Certain groups have an increased risk of complications, including those of Non-Hispanic Black descent, native Americans, & Hispanic or Latino peoples.
Aspirin use under age 19: If those under 19 take aspirin & contract flu, they can get a condition known as Reye's Syndrome.
Pregnancy: Those pregnant are more susceptible to flu complications, especially in the second & third trimesters, & up to two weeks after delivery.
Obesity: A body mass index (BMI) of 40 is indicative of increased risk.
Influenza Complications
Flu can be dangerous in certain cases, especially if undiagnosed & untreated. Undiagnosed &/or untreated, & especially in the young & elderly, influenza can lead to:
Sinusitis
Pneumonia
Sepsis
Bronchitis
Asthma flare-ups
Heart problems
Acute respiratory distress syndrome
Influenza Prevention
The flu vaccine must be taken every year, to help avoid & alleviate influenza, but it isn't 100% effective – so doesn't always prevent us from catching flu. It will, however, alleviate symptoms in those who have had the vaccine but still can contract the flu virus. Seek a flu shot at your nearest Medcare facility. While the influenza vaccine isn't wholly effective, it remains important for everyone to take measures to reduce the spread of infection.
Some common ways to prevent influenza include:
Hand washing
Using alcohol-based hand sanitizers regularly
Avoid touching your face, eyes, nose & mouth
Try to sneeze into a tissue or your elbow, disposing of the tissue immediately & then wash your h&s
Cleaning surfaces regularly
Avoid crowds. Influenza spreads easily where people gather – as we know all too well, by avoiding crowds during peak flu season, you reduce chances of infection
Avoid anyone who is sick.
Meet our doctors from the Internal Medicine department